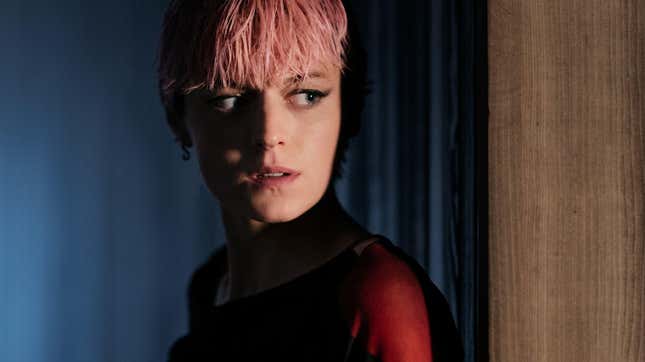 The game is finally afoot At The End Of The World, with writers Brit Marling, Zal Batmanglij, and Melanie Marnich focusing on the mystery at hand rather than the one in Darby's book. Filling in gaps is undoubtedly essential to this story, but the dual narrative was exhausting in those exposition-filled openers. Outside of occasionally explaining exactly how Darby is feeling at a pivotal moment in the present, the silver jewelry MacGuffin hasn't begun to shine. Until that arc come into focus, it'll continue to be a silver albatross around this show's neck.

Ryan Gosling shuts down "Barbie 2" speculation
Thankfully, this week was light on Bill and Darby's Hardy Boys adventure. Directed by Batmanglij, "Survivors" begins to look and feel like an actual whodunit, and the show is all the better for it. Appropriately, AMATEOTW won't follow the path exactly as expected, choosing to rejigger tropes as they appear. However, while the writers avoid "death by GPS" in this episode, Darby learns to skirt quicksand the hard way.
Bill has been dead two days by the time we meet Darby in her hotel room agonizing over the security footage. In the lobby, she finds her fellow retreaters eulogizing their fallen brethren and moving on as quickly as possible. Billionaires, man, they handle grief so well. The scene in the lobby pinpoints several of Darby's targets for the episode: Rohan (Javed Khan), an infamous climate activist and friend of Bill; Lee, who encourages Darby to continue investigating; Tomas (Daniel Olson), a waiter who admits that he brought three tea cups to Bill's room; and Andy, whose growing suspicion of Darby is untenable. She watches the other hotel guests singing songs Bill's honor, and all she can see are suspects. Now she's thinking like a detective.
She's acting like one, too, doing her gumshoe due diligence and engaging in two foot chases. First, Darby follows Tomas through the kitchen and interrogates him about Bill's death. Then, change Darby's middle name "danger" because she follows the masked man with red shoelaces across the icy tundra and watches as he signals "One down, still a go" in Morse code, using a red flashlight that beams like the hotel's door camera. While I still can't get over the fact that Darby has a skill for any situation, I do like the play on Bill's early warning about following a trail without question. What is this but a little game of "death by GPS" with Darby following her dot wherever it leads?
Amid all this, the most crucial conversation might be with Sian. "Impact isn't just about having something to say; it's about having the power to be listened to when you say it." Sian's awkward expression rings true for Darby, who must learn to weaponize her perceived disadvantages (age, size, and gender) against the killer. Darby's slight frame and pink hair make her easy to dismiss, as exemplified in the behavior of the show's two richest men: David, who calls her a "smart little girl," and Andy, who lectures Darby on grief and describes her as "fragile."
Like many of us, Darby's insecurities plague her worldview. Despite being a teen coroner, amateur investigator, and the author of a book that sold 2,000 copies and has a specific audience of the world's richest, most elite people, Darby doesn't have much confidence. That's Bill's thing. He gives people confidence. For Lee, he got her out of hiding and into Andy's arms (for better or worse), and for Rohan, Bill encouraged sobriety. Bill gave him the only thing that can change a person: "a different perspective."
That change of perspective is vital for Darby to hear. To Rohan, someone who only knew Darby secondhand through Bill, she's an ace detective. "The best," he says. Darby doesn't see herself that way. By the time Lee arrives in her bedroom with Zoomer (Kellan Tetlow), Darby's been on multiple foot chases, hacked the security system, and determined that right-handed drug users never shoot up with their non-dominant hands. But when Lee offers to pay her, Darby turns down the offer. She doesn't work for pay, which is certainly something. Get the bag, Darby. Like Sian, Lee offers some good advice that helps this whole thing lock into place. "No one sees a 24-year-old girl coming."
I've been critical of this show as a "whodunit"—mostly because it took so long for the it to get dun. It's a tricky genre to pull off and often requires another hook to stand out, something like a detective with a kooky tick (Poker Face) or genre exercises to liven up interrogation (The Afterparty). At first, I called bullshit on this hotel of tech enthusiasts underestimating Darby, especially since everyone has seemingly read her book and knows who she is. However, I do like this dynamic. A good detective should be somewhat invisible and underestimated. Agatha Christie's limping, egg-shaped, past-his-prime Hercule Poitrot slipped into many investigations because his suspects believed him more concerned with his mustache than the case. Similarly, Columbo's ragged appearance threw off his snobbish suspects. Obviously, not all whodunits need follow this, but it certainly helps the medicine go down, which is probably why this episode hits harder.
The next day, Andy invites the guests on a hike to the top of a mountain where he'll show off "the future," a.k.a. his fleet of Boston Dynamic Robots that are digging a hole to the center or something. Andy describes them as examples of AI workers who can build societies in the most inhospitable places. It's immediately sinister, but no one reacts to it, so we move to a glass igloo for some cocoa and conversation. More importantly, Darby learns that Rohan is the masked man, but Rohan flees before she can question him.
At the hotel, everyone's already forgotten what Andy calls "the future." Darby plays with Zoomer, who runs around the hotel with this VR-equipped knight's helmet. Zoomer teaches Darby to play this catch the crown game before Andy catches Darby questioning Zoomer about the fights his parents have.
Andy begins monologuing about Walt Disney and how he thought in three dimensions. Andy and Zoomer did the same by, um, breeding different colors of hamsters. Zoomer's hamster mill got Andy thinking: Maybe he could convince two AI systems to mate, too. This is probably how he ended up with a terrifying pack of robot dogs. However, despite the extra-long exposition, Andy is sending Darby home. He knows that she's been interrogating the guests, hacked the computer system, and playing Nancy Drew around the hotel.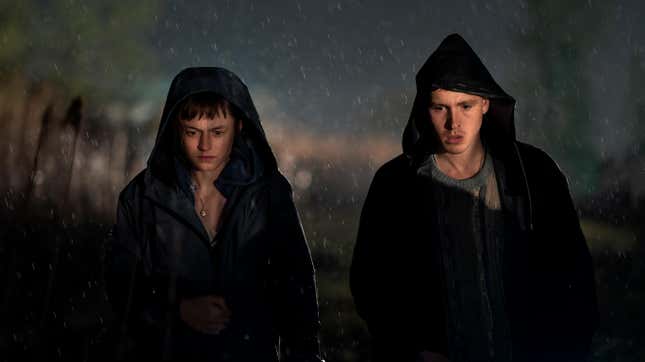 Andy can't help but seem like a compelling suspect. As in last year's Glass Onion, the tech bro dickhead in charge of the whole game is an immediate and easy guess. After all, he has access to everyone's room, knows everyone's history, and has unlimited resources. Most importantly, he has a motive to kill Bill since it's pretty clear that Lee and Bill "hooked up" more than once, despite her way-too-detailed story about Bill's booze-influenced ED. Yet, it's far too early for it to be him, and judging by the last scene, this show wants us to question more than one suspect.
Darby isn't ready to go yet. She has another flashback, this time to her meeting with the survivor. Here, we can see Darby's superpower in action. She empathizes with victims, asking specific questions that the cops would never dream of. The police only asked the survivor, "What were you doing out so late?" Darby goes for specifics: What did he smell like? What were his hands like? The survivor learns to trust her and gives Darby her next clue: a piece of silver found in her car after the attack.
The scene also clarifies Darby's motivation: "When I was the same age as your girls, I believed that I really mattered," she says, "and then I grew up and realized that I really didn't. I guess I just don't want them to grow up feeling that way." Darby has the capacity for vulnerability while everyone around her is putting up walls. By showing her humanity, victims trust her just as Rohan learns to at the last second.
Before the episode ends, Darby decides that she isn't leaving so fast and gets a call from Rohan. He didn't kill Bill, he says. Bill was onto something big, but right before Rohan could spill the beans, he dropped dead in the middle of the lobby, and Andy orders everyone to get underground.
I much prefer when this show keeps Bill, her father, and the past at a distance. Structurally, the series flows much better when the past informs the present rather than returning to heavy-handed moments that explain details a line of dialogue could satisfy. There's a bit of that when Darby speaks with the survivor. Still, there's a greater degree of ease with which it's deployed. These earnest character moments stick out less when Darby's in actual danger or when she's using her brain to solve the mystery. There's more trust within her to come to conclusions and drum up clues instead of just asking Ray. She's becoming more tactile, intuitive, and invested in her investigation.
Even Darby has more personality and some quirks. She drinks coffee and Coke? Gross! Her taste informs the character in ways that her having so many extracurricular activities don't. Like Robert Graysmith's "Aqua Velva" from Zodiac, the Coke and coffee concoction says something about her, and it's far more entertaining than she's a whiz at computers. It frames her as between ages, enjoying the sweetness of Coke and the bitterness of coffee. She isn't ready to grow up and leave Coke behind just yet.
To these points, we're clawing our way back from "pretty lousy show" to "slightly better than satisfactory." Still, I'm hopeful this upward trajectory will continue.
Stray observations
I think this is Darby's first mention of her mother on the show. Zoomer says his parents fight, and Darby commiserates, having had a similar childhood. Still, I believe that that iPod is going to be her mom's. It's the only we can explain the interest in Annie Lenox.

There was also a lot of clarity regarding how successful Darby is as a writer. "Chapter One" was all over the place with that. This was an important distinction to make. An author who sells 2,000 copies differs from one on the New York Times bestseller. Marling and Batmanglij can wring more tension out of this because it's legitimately strange that all these people are among those 2,000. Did Andy give everyone a copy? What reason would David, of all people, have to read this book?
More on Coke and coffee: The reason I like this more than the iPod or Morse code is it feels specific to Darby rather than a cliche quirk that's been used in other places. The iPod especially feels like something we've seen before (Guardians Of The Galaxy, I, Robot). I don't know. It just felt more like a thing an actual person would do because people are so disgusting

It is so weird how unphased everyone is by the robot dogs. I get that this is like a Wonka factory, but that's a lot of robot dogs all working in unison to build a drill or something, and everyone's like, "You're Darby Hart; I read your book."
All of my complaints revolve around the show lurching toward revelation. My kingdom for a two-hour movie version of this show!
A Murder At The End Of The World is available to stream now on Hulu.