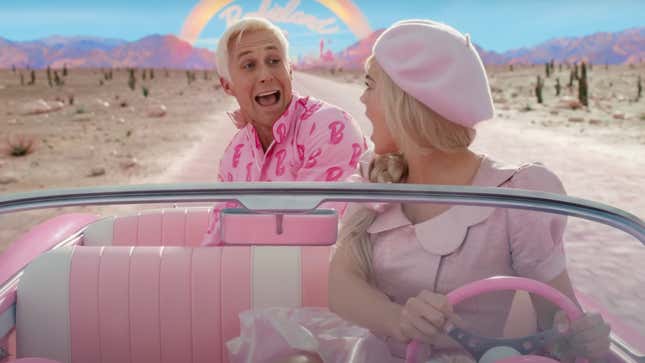 If you have been even remotely keyed into pop culture this summer—or, frankly, if you're a living, breathing human being—you could be forgiven for thinking Barbie must be one of the most successful films of all time, if not the most successful. She easily overtook Mario and his buddies for the year's number-one spot. She's saving movie theaters. She's saving the nation's economy! But—until now—she's only been 12th on the list of highest domestically grossing films of all time.
You can now buy a Weird Barbie — but isn't that missing the point?
While this placement may seem low, Greta Gerwig's hot pink juggernaut has some stiff competition to sail through if it wants to reach anything close to the number one spot, or even break the top ten. And that competition is super-fast, super-strong, super-web-slinging, and more. (You get the picture. There are, unsurprisingly, a lot of really successful Marvel movies.)
Still, Weird Barbie must have some secret, real-world powers because Barbie just dethroned 2012's The Avengers for the 11th spot on the chart, with a current running total of $626 million earned at the box office (per Box Office Mojo).
Pause your scroll if you want to guess which films it will have to beat if it wants to crack the top 5. (Hint: two are about modes of transportation and one of them is really big and really blue.)
Have you locked in your answers? Here are the top 10 grossing films of all time in the United States, listed in descending order:
10. Jurassic World ($653 million)
9. Titanic ($674 million)
8. Avengers: Infinity War?($679 million)
7. Avatar: The Way Of Water ($684 million)
6. Black Panther ($700 million)
5. Top Gun: Maverick ($719 million)
4. Avatar ($785 million)
3. Spider-Man: No Way Home ($814 million)
2. Avengers: Endgame ($858 million)
1. Star Wars: Episode VII - The Force Awakens ($937 million)
That's a hell of a list, but if Barbie taught us anything, it's that Barbie can accomplish everything.