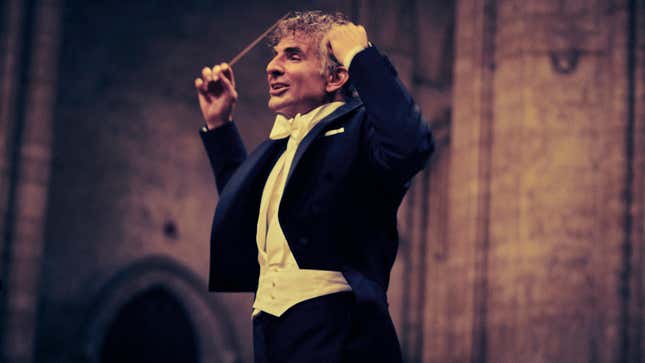 Despite widespread backlash and claims that he was perpetuating "Jewface," the necessity of wearing an enlarged prosthetic to play legendary composer Leonard Bernstein was as plain to Bradley Cooper as the nose on his face.
Rainn Wilson talks "Jerry and Marge", "The Rocker", and Dwight Schrute
Three months after the first trailer for Cooper's upcoming biopic Maestro initially revealed the nose—and the controversy surrounding it—the multi-hyphenate is breaking his silence about the whole thing. "My nose is very similar to Lenny's, actually, so the prosthetic is actually like a silk sheet," Cooper said on today's episode of CBS Mornings. "I thought, 'Maybe we don't need to do it because we could take down time of prep,' but it's all about balance, and, you know, my lips are nothing like Lenny's, and my chin. And so we had that, and it just didn't look right [without the prosthetic]."
"We just had to do it, otherwise I wouldn't believe he's a human being," Cooper concluded.
In the wake of the backlash, multiple groups including Bernstein's own children rushed to Cooper's defense, an act the actor and director called "very moving." "It happens to be true that Leonard Bernstein had a nice, big nose. Bradley chose to use makeup to amplify his resemblance, and we're perfectly fine with that. We're also certain that our dad would have been fine with it as well," the family wrote. The Anti-Defamation League also weighed in, writing (via The Hollywood Reporter), "Throughout history, Jews were often portrayed in antisemitic films and propaganda as evil caricatures with large, hooked noses. This film, which is a biopic on the legendary conductor Leonard Bernstein, is not that."
In a recent interview with Variety, the film's makeup artist Kazu Hiro also expounded on just how intense Cooper's prosthetic transformation really was. According to the Academy Award-winning artist, Cooper's regimen did not just include the nose but also fake ears, temples, lips, cheeks, neck, shoulders, hands, and eventually a full body suit as the character ages throughout the film. Hiro even made Cooper custom nose plugs to change the sound of his voice to make it more closely resemble Bernstein's—or Lenny's, as both men call him. "We respect Lenny and his look," Hiro said. "He's so handsome and talented and an amazing composer and conductor. And when we listen to his music, we think of how he conducted, so it was important to make Bradley as close as possible to Lenny."
"The truth is, I've done this whole project out of love," Cooper added in the CBS Mornings interview. "It's so clear to me where I come from."