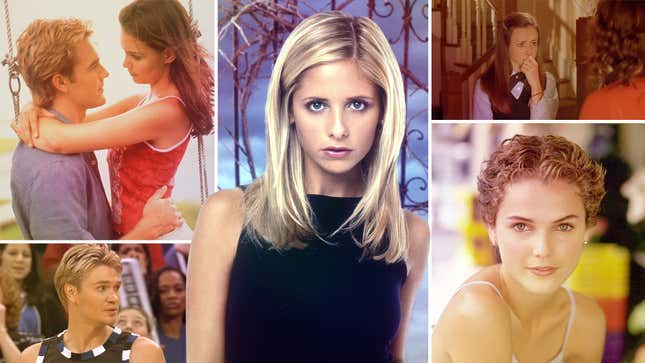 There was, of course, teen TV before The WB: Saved By The Bell and Beverly Hills, 90210 and My So-Called Life and so on. But the coming-of-age genre didn't officially, well, come of age until a top-hatted cartoon amphibian named Michigan J. Frog ushered in a wave of generation-defining programming in the late-1990s, populated with acne-free, curiously named creations like Buffy, Pacey, Felicity, and Rory. Running from January 1995 to September 2006, the tenure of the now-defunct network was a short one—alongside several UPN shows, The WB's most popular series would famously be folded into a new channel entirely, The CW—but undoubtedly significant.
Zeitgeist-capturing titles including Dawson's Creek, Buffy The Vampire Slayer, and Gilmore Girls not only cemented the network's status as a haven for teen-centric television but also built The WB brand entirely. A "WB show" held with it the promise of a particular aesthetic, a generational je ne sais quoi: equal parts soapy and sappy, hormonal and heartfelt, precociously smart and preternaturally good-looking. The WB distinguished itself via "smart-teen fare," as The New York Times dubbed it, handling the inner workings and everyday trials of youth with sharper writing and more thoughtful consideration than they were historically afforded. Even the more "adult" series like Charmed and Angel regularly tapped into the growing pains of growing up.

With its reliance on small-town angst, swoon-worthy romance, and siphoning out the ordinary from the extraordinary—jocks bullied Superman and Buffy's most terrifying Big Bad was a brain tumor—much of The WB's signature slate seems downright wholesome in comparison to pulpier descendants like Gossip Girl, Riverdale, and Euphoria. It's a brand bubble that burst with The CW merger, a DNA-altering effect felt in held-over series like One Tree Hill. Celebrating its 20th anniversary on September 23, OTH was The WB's last big teen drama, the last one that fully embraced that mix of earnestness and melodrama that fueled the Frog Network. (At least, the first three seasons did, before it moved to The CW for six more seasons and got progressively more insane.) In honor of the feeling—hell, the phenomenon—that The WB sparked all those years ago, here are the top 15 shows that defined the network.