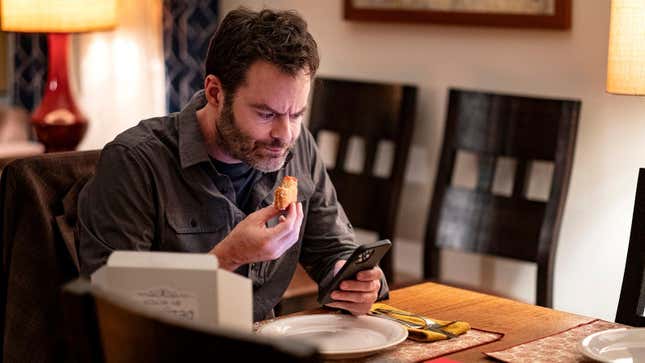 One of the great things about Documentary Now! is its specificity. Viewers know that when Documentary Now! parodies Werner Herzog or Agnes Varda, creators Bill Hader, Fred Armisen, and writer John Mulaney won't miss. Unsurprisingly, that commitment to hyper-specific references extends to text messages between Hader, Mulaney, and Armisen.

The A.V. Club's best shows of 2022 No. 4
Last week, Bill Hader appeared on hour 17 of The Best Show's 24-hour live stream, wherein—god love him—host Tom Scharpling spent an entire day fielding calls on The Best Show. During their delightfully loopy, sleep-deprived chat, Scharpling steered the conversation toward the Van Halen brothers at the behest of Best Show regular and Superchunk drummer Jon Wurster. Turns out, not only does Hader do a great Eddie and Alex Van Halen complaining about former singer David Lee Roth at the 1996 MTV VMAs, but also he revealed that he had a text chain with Fred Armisen and John Mulaney where they roleplay as the Van Halen brothers getting into a fender bender.
"John Mulaney, Fred Armisen, and I had a text chain as the Van Halen brothers rear-ending somebody," he tells Scharpling. "They had a press conference about the rear-ending, and nobody cared about it, but they assumed it was going to be a thing. They would be up at the [podium], and no one was asking questions, but Eddie Van Halen was going, 'One at a time! One at a time!'"
Apparently, Hader has a whole Van Halen chunk that the world is just learning about. Elsewhere in the interview, the Barry star talks about calling Wurster and Fucked Up singer Damien Abraham in character as the Van Halen brothers. As with his Documentary Now! work, this is an impression based on a very specific interview that was, at one point, a fixture of VH-1 rock 'n' roll feud shows but is now lost to the sands of time. We did uncover part of it, though, including the part where Eddie says, "His work ethic sucked." However, the search for Hader's favorite part, Eddie and Alex repeatedly saying, "He was very disrespectful to Beck," continues.
Thankfully for Scharpling, The Best Show's 24-hour stream ended on September 13, but the team over there is breaking the whole thing up into bite-size morsels. Scharpling interviews Nathan Fielder, Samantha Bee, Tony Shalhoub, Bob Odenkirk, Marc Maron, Sarah Squirm, Tim Heidecker, and more. He even got a call from CSNY's Graham Nash (as played by Matt Berry).

Full interviews can be found on The Best Show's podcast feed, with video of the stream available on Patreon.