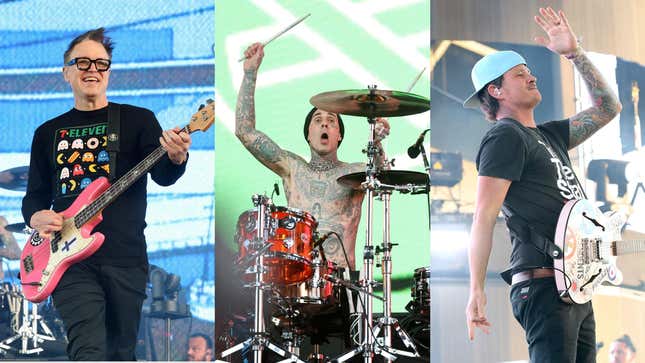 Back on 1997's "Dammit," Blink-182 postulated that growing up meant realizing all your closest friends were gone. Now, almost three decades and a new drummer later, the band really has grown up. But through all the genuinely devastating trials they've faced over the years, the trio seems to finally understand what growing up actually means: bringing your closest friends back together to do what you all do best.
5 more essential punk rock documentaries
This comes via an emotional, nearly 4-minute-long album announcement video posted by the band today. The record, titled One More Time..., is set for an October 20 release. It also marks the trio's first album with the classic Tom DeLonge, Mark Hoppus, and Travis Barker lineup in almost a decade.
"What you need to understand about Blink-182 is that we didn't come out of, like, joyous homes," DeLonge explains in an intro to the video. "So Blink was always a way to force the happiness in the room." As the rest of the video unfolds, all three members explain to Apple Music's Zane Lowe just how much they've needed to regain that sense of joy in recent years. Travis Barker survived a near-fatal plane crash that killed four other passengers. Mark Hoppus survived stage 4 lymphoma. Tom DeLonge survived... quitting the band for a little while to become an alien researcher, but it sounds like that was pretty emotional for him too.
Gone are the innuendos and crass humor of Blink announcements of yore. "On the album, 'One More Time' is kind of written, like, why does it take these catastrophes... for our band to get back together?" asks Barker while a snippet of the leading single (out this Thursday) plays. "When it's the three of us on stage, I feel unstoppable," Hoppus adds, noting that the "healing" of "this band and this music and this record" causes him to cry on stage every night.
"Coming out with these words 'One More Time,' it's like, this is the last time we're gonna fuck this up," DeLonge says in conclusion.
Here's the full track list for One More Time..., which Lowe hails as "the best album [the band] has ever made":
1. ANTHEM PART 3

2. DANCE WITH ME

3. FELL IN LOVE

4. TERRIFIED

5. ONE MORE TIME

6. MORE THAN YOU KNOW

7. TURN THIS OFF!

8. WHEN WE WERE YOUNG

9. EDGING

10. YOU DON'T KNOW WHAT YOU'VE GOT

11. BLINK WAVE

12. BAD NEWS

13. HURT (INTERLUDE)

14. TURPENTINE

15. FUCK FACE

16. OTHER SIDE

17. CHILDHOOD