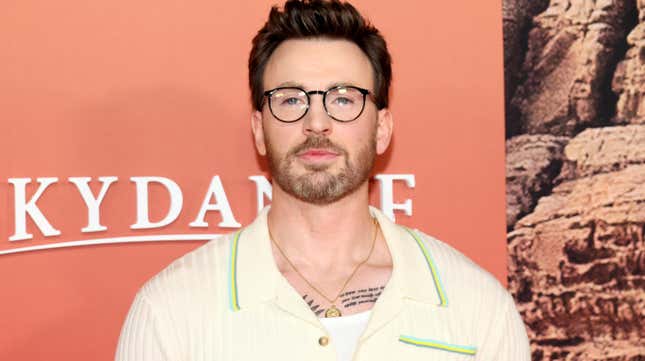 Robert Downey Jr. as Iron Man gets all of the "brilliant casting" accolades, but Chris Evans as Captain America is an underrated aspect of the Marvel Cinematic Universe's success. With him, near the center of all of these universe-shaking superhero antics, they have someone who is just a relatively regular and nice guy (referring to both Steve Rogers and Evans himself). MCU boss Kevin Feige says as much in a new GQ profile of Evans, which, interestingly, is mostly about Evans' reluctance to be defined in anyway—as a regular and nice guy or otherwise.
Iron Man is dead and Gwyneth Paltrow is just sitting here
That includes being pigeonholed as Captain America for the rest of his life, with Evans offering up a pointedly noncommittal "Yeah, maybe" when asked if he would ever go back to Marvel, sidestepping the question by saying that it was a "wonderful experience" and he wouldn't want "the black eye" of doing it as a cash grab or if it didn't live up to fans' expectations. "So," he says, "no time soon."
Still, Evans says that he feels closer in real life to Captain America—"in terms of your personal integrity and the man you want to be"—than the jock assholes he used to play before, and the GQ story makes it abundantly clear that he has nothing but positive feelings for Marvel, for his time with Marvel, and for Cap specifically, and it's at least partially because making all of those superhero movies gave him so much money that he could "stop everything now" if he wanted to (referring to his acting career).
He says he's lived with anxiety for his whole life and is "a bit of an overplanner," but he now has enough money that he can be ready for "any sort of future curveball that happens." Because of that, he's able to "just be present" more than before and has the freedom to live his life away from being defined—even as "an actor." It's sort of like the concept of "fuck you money," but since Evans is so nice, it's more like "no thank you money."
To illustrate that, Evans compares being involved with The Avengers to winning the Super Bowl, "but you weren't Tom Brady," he says, you were just some guy on the team. Sure, you were part of this huge thing, but it's not really your thing. He also says that he could be just as happy doing other things (he offers up making furniture "for nobody" as an example), and working nonstop on movies—which he did last year, with Ghosted, Pain Hustlers, and Red One—is exhausting to him because he has to constantly listen to "a little egoic voice" that makes him measure his future against his past and just be "aware" of himself at all times. As GQ puts it, "it was a lot of Chris Evans, even for Chris Evans," which is to say that he doesn't even really like being defined as himself.
Evans also ties all of this in with what Quentin Tarantino said about Marvel movies last year, which is that they don't produce movie stars, they make the characters the stars, which Evans agrees with and thinks of as a good thing. "You're there," he says, "but you don't feel the burden of it." With that, and the Marvel money he got from it, Evans says he's looking forward to being more like Seth Rogen, saying, "I'd like to just smoke a joint, put on some music, and like, get into pottery."