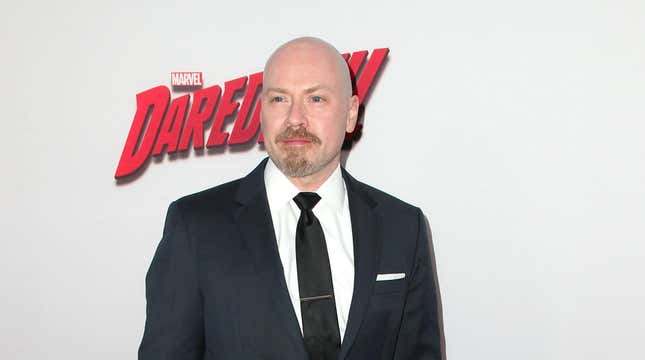 In 2022, Disney surprised Marvel fans by announcing Daredevil: Born Again, a new show about the Devil Of Hell's Kitchen with Charlie Cox and Vincent D'Onofrio reprising their roles as Matt Murdock and Wilson Fisk from the Netflix's Daredevil series. Since then, pretty much everything about the show has been a mystery, including what, if anything, from the Netflix show will still be considered canon. But, according to original Daredevil showrunner Steven DeKnight, that confusion is all part of the plan to make it seem like Born Again is completely unrelated to Netflix's Daredevil—not to create some kind of narrative suspense, but to avoid paying people who were involved with the original show.
The A.V. Club's weekly film round up
Unless you're consciously ignoring it to make his comments seem spicier, DeKnight makes it very clear in a series of social media posts that he's actually very excited for Daredevil: Born Again and has nothing but praise for Cox, D'Onofrio, and the new creative team, but that doesn't change the fact that he says this is part of "an old Disney scam" where they rename a series or call it a "reboot" in order to "reset contract terms" back to what they were in the first season (via Deadline).
Basically, as a TV show goes on, the people who make that TV show are traditionally supposed to get more money. But DeKnight says that what Disney is doing here (and has allegedly done in the past) is putting a subtitle on the show—Born Again—so it can say it's a totally new show. Therefore this isn't season four of Daredevil, with the cast and crew getting paid for a fourth season. This is the first season of a totally new show that just happens to have two of the same lead actors playing the same characters.
And this may seem like some salty showbiz insider stuff, but the ongoing WGA and SAG-AFTRA strikes should've made it abundantly clear by now that this is exactly the kind of scheme that the major Hollywood studios are constantly running on the people who actually make the shows and movies they get rich off of. There have been so many stories about studios bumping a show to a streaming service so they don't have to pay writers residuals, or streamers profiting from an older title getting a sudden resurgence (as Suits famously has) and not sharing that with the people who made it, or studios scanning background actors and trying to use their likenesses for free forever. It shouldn't be hard to believe that they would do something like this.
That's all even without factoring in the concept of "Hollywood accounting," an aspect of show business that is so openly gross that it makes the whole idea of major studio filmmaking seem morally dubious. Essentially, the "old Disney scam" that DeKnight has a problem with (even though he's looking forward to the show!) is part of a larger issue, which is that there's no depth these studios won't sink to in order to make more money for themselves and no one else. There's a reason the WGA and SAG-AFTRA are both on strike and have both been on strike for so long already, and it's because exploitative practices like this will burn out all of the talented artists who can no longer make a living in show business, which will lead to worse art.