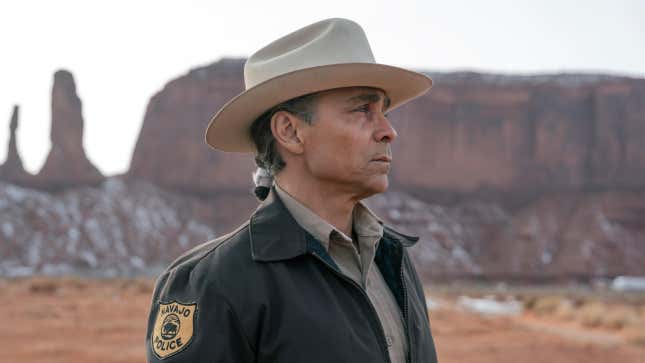 Despite forecasts saying sunny days were on the horizon, Dark Winds isn't going anywhere. AMC has picked up the Navajo County neo-noir for another season. The news comes roughly two weeks after the show's second season concluded on September 3; however, the new season likely won't hit TV screens until early 2023, per Variety.

Dan Cummins plays This Or That with The A.V. Club
"We started this journey with very high hopes for this series, given the remarkable source material and extraordinary creative team behind it, and it has delivered on every level," said Dan McDermott, president of entertainment and AMC Studios for AMC Networks. "From the beloved novels, to an incredibly collaborative producing team that includes Robert Redford, George R.R. Martin, showrunner John Wirth, and star Zahn McClarnon, to the entire cast and crew, there is so much storytelling yet to come in this universe. Thanks to the fans for embracing this series and the critics for celebrating and shining a light on it."
Obviously, we don't have many reasons to feel optimistic about the state of television. With two historic strikes, one of which is about to cross 150 days and another about to enter its third month, we're probably not going to have any new shows entering production for some time. But even though we won't be getting more Dark Winds for more than a year, we can take solace in knowing that this original series, with a cast and crew that is 90% Indigenous, is a hit roughly 35 years after development on the show began. The Hollywood Reporter notes that the second season averaged 1.7 million viewers per episode, making it one of the top 10 dramas on TV of the summer.
For anyone looking to catch up on the show, it's currently available on Max until the end of October as part of a "programming pop-up."