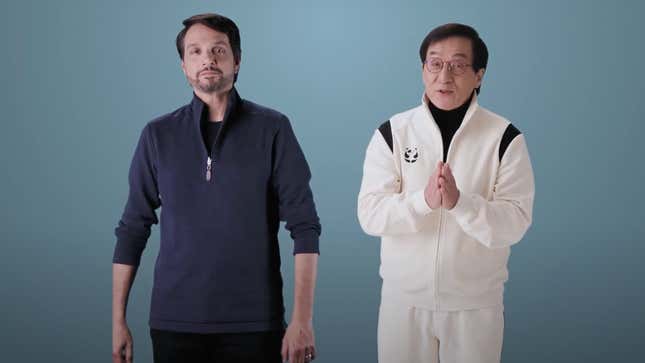 Great news, Karate Kid fans. If you love both OG Karate Kid and the attempted Karate Kid reboot—there's gotta be some of you out there!—you're in luck because Ralph Macchio and Jackie Chan have announced they're both starring in a new Karate Kid movie. The new movie has been on the horizon for a while, but on Tuesday, Macchio and Chan kicked things off (no pun intended) by announcing the search for the next Karate Kid in a new video.
"The Out-Laws" cast on their dream heist team
According to The Hollywood Reporter, this new film will be "fusing and continuing the mythology of the original franchise" with the 2010 movie, which starred Chan and Jaden Smith. Rob Lieber (Peter Rabbit, Alexander And The Terrible, Horrible, No Good Very Bad Day) will write the script, while Jonathan Entwistle (I Am Not Okay With This and The End Of The F***ing World) will direct. The creative team is reportedly seeking to cast a Chinese actor to play the titular role.
The most recent installment of the franchise is Netflix's beloved Cobra Kai, which is slated to return for a sixth and final season in the near future. Last year, Macchio talked to The A.V. Club about spinning the show off into its own cinematic universe. "I mean—what characters would I like to see get spin-offs? Jon Hurwitz, Josh Heald, and Hayden Schlossberg, who created the Cobra Kai series along with their writing staff, are the best of the best at understanding this world and where they see it going," he said.
At the time, he said his wish for the next Karate Kid movie was "For anyone involved to care as much as the other people who have touched this universe. That's the main thing for me. That it enhances the story going forward, whatever it might be. And whether I'm involved with it or not, it's too early to tell, but it's fun to see this Karate Kid universe and fandom continue to grow through the roof."