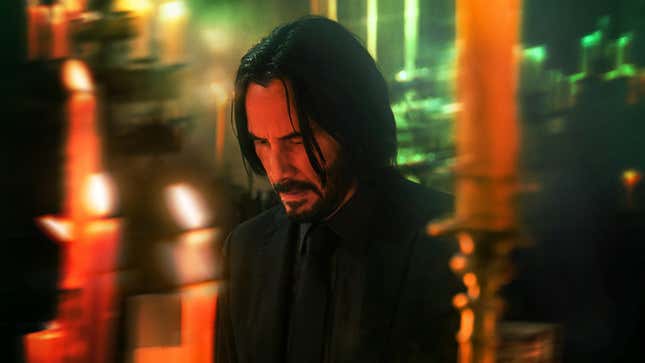 Having 275 bloody deaths on your hands across three movies seems as good a reason as any to beg for sweet release yourself. That's an insane ratio to keep up, even for one of the deadliest assassins in Hollywood history. John Wick just needs a nap, at the very, very least.

Keanu wonders if "John Wick" has gone too far
In a new interview with Collider, producer Basil Iwanyk revealed that Keanu Reeves—the face and sideburns behind the inimitable Wick—asked the team to let him lay down his weapons for good at the end of John Wick: Chapter 4 (released this past March).
"After the 2nd, 3rd, and 4th movie, making these films is so exhausting and it destroys Keanu, physically and emotionally," Iwanyk said. "By the end, he's always like, 'I can't do this again,' and we agree with him. The guy is just a shell of himself because he just goes off and goes for it. He was like, 'I wanna be definitively killed at the end of this movie.'"
To actually watch the film, it sure seems like (spoiler alert!) Reeves got his wish. After killing people in a Tokyo hotel, a Berlin nightclub, and up and down the approximately 300 steps of Montmartre, Wick is seemingly shot in a duel, freeing him from his obligation to The High Table. Still, the scene is left slightly ambiguous (by design), and no body is ever actually shown.
"We were like, 'You know, we'll leave a 10% little opening,'" said Iwanyk. That 10% may or may not be realized in John Wick: Chapter 5, which is currently set to bring in even more money and even more murder for Lionsgate, with or without its titular hitman. This is, of course, not to mention the upcoming spinoff film Ballerina?or prequel series The Continental, which focuses on a young version of Ian McShane's character, Winston Scott. We guess there really is no rest for the wicked.