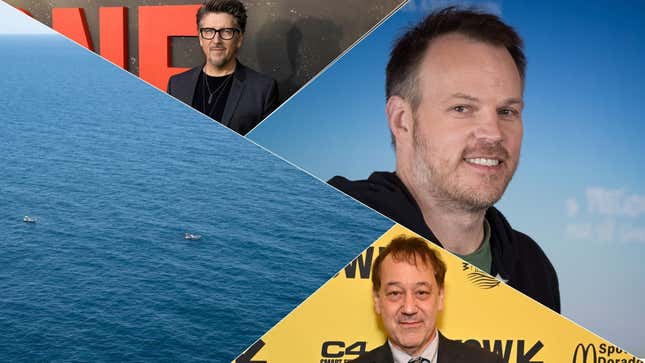 Hollywood is a weird town (some might even call it "Hollyweird" because of how weird it is), but even that doesn't really describe the twisted pretzel of weird that is Skydance's mysterious and troubled Bermuda Triangle movie—a pretzel so weird that it has necessitated the use of words like "pretzel" even though "web" or "triangle" might make more sense. But we can't use those words, because they occur elsewhere in this story!
"Doctor Strange" stars Benedict Wong and Rachel McAdams on navigating the MCU
Here's the straightforward, tip-of-the-iceberg version: Deadline says that Marc Webb (director of the upcoming live-action Snow White, yes, but also the Amazing Spider-Man movies) is attached to direct Bermuda, an "action-adventure pic" that has been in the works for many years. Deadline says this "version" of the project is very early, and will remain very early until the WGA strike ends, at which point Skydance and Webb will actually get someone to write it. We don't really know anything about the project, beyond the fact that it involves the Bermuda Triangle—a supposedly mysterious region of the Caribbean where ships and planes are supposedly prone to disappear.
But this is where the web becomes a twisted triangle: A previous version of this project was going to be directed by Scott Derrickson after he dropped out of the Doctor Strange sequel (with Chris Evans set to star at the time, though that's not really relevant). The Doctor Strange sequel eventually became Doctor Strange In The Multiverse Of Madness, which was directed by Sam Raimi, who had previously directed the original three Spider-Man movies. But before he returned to the world of Marvel superheroes, what else was Sam Raimi attached to direct? Why, none other than a Skydance movie about the freakin' Bermuda Triangle!
That means we have a perfect Bermuda triangle of Webb, Derrickson, and Raimi connected by movies about Spider-Man, movies about Doctor Strange, and movies about the Bermuda Triangle. Also, this is a web and a triangle, and it's about a Triangle and a guy named Webb. Much like the actual Bermuda Triangle, there is simply no way for science to explain this. It can only be proof of supernatural forces at work.