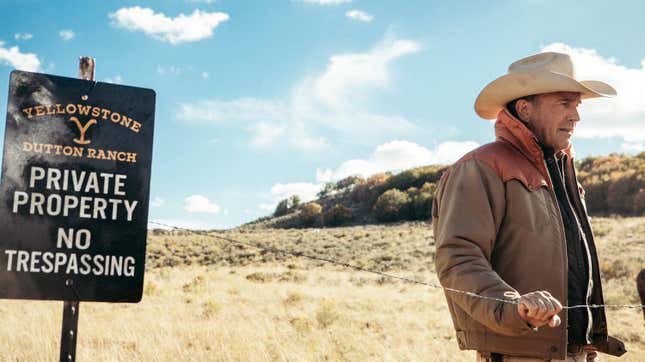 Five years after its initial premiere, Yellowstone finally made its network debut on Sunday to a massive and hungry viewership. CBS aired the show's series premiere, which initially aired on The Paramount Network in 2018, bringing in 6.6 million viewers in the year of our lord 2023.
Nickelodeon is getting ready to slime the Super Bowl
Per Variety, Yellowstone benefitted from what's known as the 60 Minutes bump. Either because viewers suffering from Lesley Stahl withdrawals needed a comedown or they were lulled to sleep by the dulcet tones of Scott Pelly, Yellowstone caught more than half of 60 Minutes' 11 million viewers. Previous experiments in expanding Yellowstone's reach were also successful. Last November, the fifth and final season premiere aired on Paramount Network with a simulcast on CMT, TVLand, and Pop TV, bringing in more than 10 million viewers combined.
However, Yellowstone's success on CBS again points to the WGA strike because the lack of new television has left holes throughout the fall schedule. So while some networks have relied on unscripted series hosted by Gordon Ramsay and Ken Jeong as a stopgap for a work stoppage that started 140 days ago, CBS is bringing in content from other parts of its network. Still, if Viacom would like a new Yellowstone, FBI, or NCIS, it should consider ending the strikes by giving its writers and actors a fair deal.
It's not that surprising that Yellowstone would do numbers like this. Honestly, the only thing surprising is that it took Paramount this long to put the show on CBS. After years of the series bouncing around on streaming, between Peacock and whatever Viacom is calling its streamer these days, people without access to the Paramount Network or Paramount+ can finally see what those Duttons are up to or, as acknowledged, they fell asleep during 60 Minutes. Of course, whether they're awake or asleep means nothing to Nielsen. We're all numbers to Nielsen. Praise Nielsen, keeper of demographics.