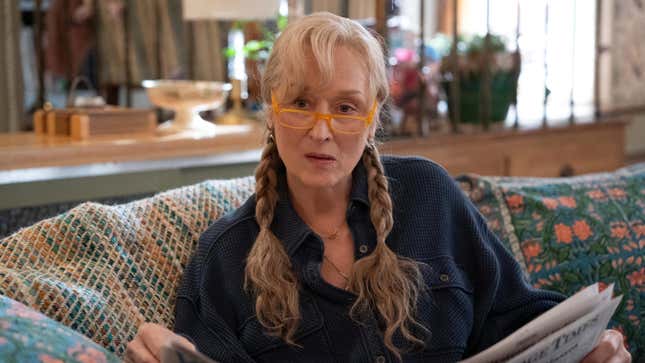 Well, theorists in the audience, you were sort of right.

A considerable suspicion throughout Only Murders In The Building season three was that Loretta Durkin (Meryl Streep) is Ben Glenroy's (Paul Rudd) mother. I never fully bought into that line of thought based on how she acted around him, especially in the premiere. She's beyond unhappy to see him alive—before he falls to his death at the Arconia, that is. But it's more what she says and how she says it; there's real loathsomeness in her calling him an asshole. See also: how she describes Ben to Oliver (Martin Short) on their ferry date. Ben doesn't just irk her; it's worse than that. Even if she gave him up for adoption and doesn't feel maternal towards him, it's a bit of an extreme reaction for a parent. Well, episode eight quickly reveals that Loretta does, in fact, have a son she actually loves. And it's not Ben, but it explains her hatred of him.
"Sitzprobe" opens with a beautifully written narration. Loretta talks about how an actor's choices in theater can affect the production's quality. And you know what? That translates well to our real life, too. It's impossible to predict how every decision we make will turn out or be perceived by others. All you can do is try and put your best foot forward. In Loretta's case, she chose as a young adult to pursue Broadway over her newborn. (The father is an unnamed New York City director who visited her Midwest town, caught her in a local play, and probably abandoned her after they hooked up.) Years later, after an unsuccessful career, Loretta decides to get close to the son she doesn't know: Dickie Glenroy (Jeremy Shamos).
Her scrapbook that Oliver stole isn't a weird homage to Ben. It's her collection of press material and photos featuring her one and only child, Dickie. Once she realizes Dickie is also part of the industry (acting as Ben's assistant/manager), Loretta decided to get close to him. That's why she auditions for Death Rattle Dazzle. In "Sitzprobe," she confesses all of this in a letter to Dickie that she's unable to give him. However, Mabel and Charles read it and secretly learn the truth at the end. By then, Loretta makes the ultimate mom sacrifice when she admits to killing Ben, acting under the assumption that the police are about to arrest Dickie for the crime.
While I appreciate the sentiment, it didn't look like Detective Williams (Da'Vine Joy Randolph) was doing that, right? She was just taking him in for questioning in Charles' green room, something Williams did with several other people earlier. So, unfortunately, I don't buy the hastiness of Loretta's actions, even if she was driven by the knowledge that Dickie is Mabel's (Selena Gomez) top suspect. And yes, the song she's performing while all this happens is all about a 苍补苍苍测'蝉 mother's duty to take care of the child. But to jump to that conclusion and confess in front of everyone still feels melodramatic. At least the rest of "Sitzprobe" is pretty damn good.
It takes place almost entirely at the Gooseberry Theater, where everyone gathers for sitzprobe; it's when the actors in a musical rehearse with the orchestra for the first time to see how well both sides are integrated. Or, according to Loretta, it's a chance to see if "your choices have produced something harmonious or horrific." Mabel arrives to basically spy on them for her podcast, armed with a GoPro that Tobert (Jesse Williams) lent her. Why does she need it for audio-only content, we don't know, but it comes in handy. She tells Charles and Oliver about Dickie, and they agree to help her out. (Remember, both of them really want to be back in her good graces.)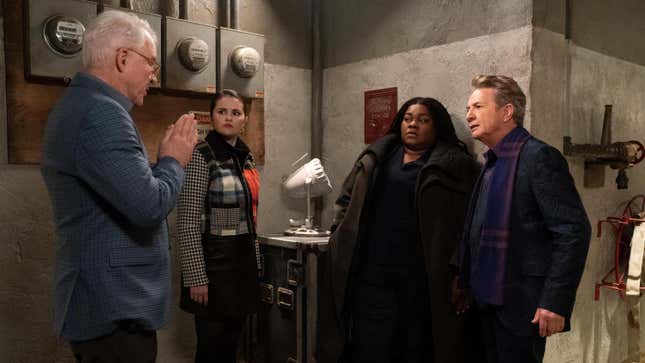 They get the perfect opportunity when Greg (Adrian Martinez) is released from prison thanks to #BloodyMabel's work. Detective Williams reopens the case into Ben's murder, crashing the rehearsal with an urgent need to interrogate everyone involved in Death Rattle Dazzle. Would any police officer get convinced that easily to do official questioning in a theater as opposed to the station? OMITB doesn't want you to apply logic here, so we won't for the sake of the narrative journey it takes us on next.

Charles and Oliver agree to spy on Williams' interrogations while Mabel looks into Dickie. They trick and bait her into watching Charles perform his song, during which Oliver plants the GoPro to record her interrogations. Let's take a brief moment to applaud Martin's ridiculous, unhinged, hilarious performance of "Which Of The Pickwick Triplets Did It." He barely paused to breathe, and the result was euphoric, to be honest. The original song is written by Benj Pasek and Justin Paul, who also wrote Loretta's big episode-three number.
Meanwhile, Mabel finds herself caught up with Loretta, who tries to convince the ace sleuth that Dickie couldn't have done it. Mabel also spends some time with Howard (Michael Cyril Creighton). He tells her he surely heard someone shred documents before the attempt to poison Ben, which may or may not relate to his death. All their scenes made me realize that I would love some one-on-one Howard/Mabel moments. Creighton and Gomez are really a lot of fun together.

While "Sitzprobe" ends with Loretta claiming to have murdered Ben—right after Oliver says an "I love you" that she doesn't respond to—it's most definitely not her. Right? All the talk about choices and the emotional nods to motherhood now seem to point at Death Rattle producer Donna Demeo (Linda Emond). In a quick scene with Loretta in the bathroom, she talks about going to any length for her son, Cliff (Wesley Taylor). It's a sure-shot sign episode nine will delve into them—and they're the only key players left to learn more about in season three so far. The only interesting thing to glean about them (and we didn't need Donna's dialogue for it) is that this mother-son duo loves to share a kiss on the lips.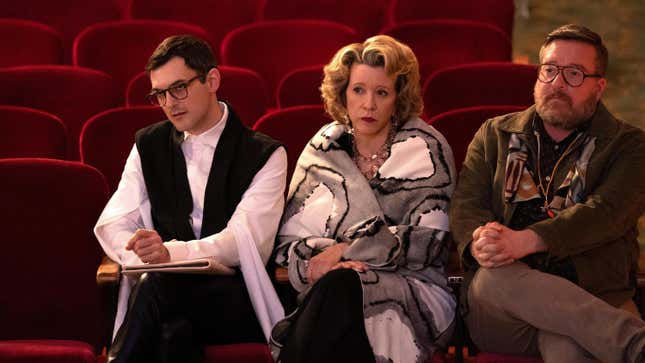 However, the part I'm most interested in, because it got me surprisingly choked up, comes at the end. Loretta being taken away by the cops pushes Oliver to the brink. He clutches his arms, collapsing right there on the floor, as Mabel and Charles rush to his aid. We're finally circling back to his health crisis from the premiere. Now, I didn't expect to get emotional over seeing Short's fake heart attack. But in the past several days, I've consumed a lot of his content to reaffirm my faith in his talent. (He's extremely hilarious; there are really no arguments there.) Anyway, I've been loving Oliver's identity and career crisis in season three, and Short is crushing it. So it was heartbreaking to see him fall, and OMITB made me emotional for the first time ever.
It's good that Mabel and Charles will learn more about what's going on with their friend. But I'm still nervous about how OMITB will wrap up the actual case in only two episodes. Maybe the trio will discover something critical from Williams' cross-examination. Maybe we'll learn Ben wasn't murdered at all, and it was a simple accident. I know fans and commenters have been missing the true-crime, mystery-solving aspect of OMITB. Hopefully, that's what the next outings will shape up to be.
Stray observations
I loved this line thrown in between Loretta's otherwise sweet opening monologue: "I was the best young actress in the Midwest according to an article in The Clayton Chronicle, where my dad was the editor."
Howard's subtle reference to Schmakery's cookies being present during sitzprobe did not go unnoticed.
"Trouble in Candy Land with Toblerone" is how Charles asks Mabel if she's having problems with Tobert (Jesse Williams), who is away at a commercial shoot in this episode.
Do we think Da'Vine Joy Randolph enjoyed watching Steve Martin's unhinged song performance in OMITB far more than whatever musical chaos she had to witness on The Idol? Anyway, her reentry into the show was terrific. I'm so happy to have her back.
Oliver: "She thinks we're fools"
Charles: "That's only because we're skilled at playing them."
Mabel: "Weird flex but okay"
Oh, how I missed their banter. I'm glad they're all friends again.
FYI, Mabel is crashing with her "pal" Theo now that her aunt has given her apartment to new tenants.
So, which (if any) of the Pickwick triplets—who are newborns, mind you—commit murder in Death Rattle Dazzle? And did this sitzprobe performance help you understand what Oliver's mystery musical actually is?
Two more episodes to go! What's everyone thinking about who Ben's killer is? Is the show heavily throwing last-minute suspicion on Donna (Linda Emond) working for you?
Finally: I'm sorry for forgetting to mention Mel Brooks in last week's recap, but trust I had a "Mel Freaking Brooks!!!" in my notes. I will remember this grave error to my dying day.?