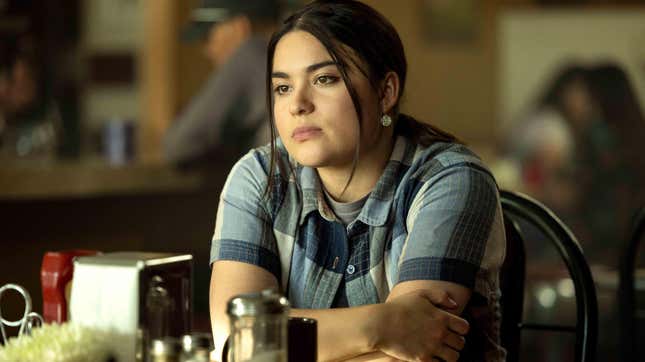 Sorry, I couldn't bring myself to bury the lede. Reservation Dogs has had its fair share of amazing guest stars. (I'm looking at you, Lily Gladstone, Megan Mullally, and, most recently, Evan Adams, Graham Greene, and Incubus' own Brandon Boyd.) But I was floored to see the Academy Award nominated actor (and writer) show up as the figure that gives this episode its title: "Elora's Dad."
We should've known this day would come. After all, Elora has spent much of this season trying to restructure her life after losing her grandmother and having come back from California to an empty home. And part of that journey, we'd learned alongside her, was a revelation that had turned her life upside down: Her dad wasn't dead. He was alive. Oh, and was white!
Try as Elora might, it was going to be a matter of time until she had to contend with this family history. And what better reason to dive into it than her newfound decision to go to college?
That's when we first meet her in this episode, dutifully trying to get information as to what she'd need to apply for financial aid. (As it turns out, all scholarships have been accounted for.) Joining her, in full cheerleading mode, are her friends, who find in college more of a fanciful space to mock than any one to aspire to. But they're there to support Elora no matter what.
It's in that meeting that Elora learns that, given that her mother has passed, she'll need information about/from her dad if she wants to get any kind of financial assistance. So, with nothing else to do, Elora decides to finally go and meet her father.
Only, she doesn't just merely show up at his door (which would've been awkward enough). Instead she opts to, well, basically stalk him. She finds him at a hardware store, then follows him in her car as he goes to a dispensary ("My dad's a big stoner," she texts her friends), and later still to a gas station. Except Elora is no PI and whatever stealth skills she thought she'd have while tailgating a blue pickup truck in otherwise deserted streets are clearly nowhere to be found. All she's done is freak out this unassuming older white guy going about his day.
That's how her dad (!), played by Ethan Hawke, first decides to approach her. He's unsure why that car has been tailing him and wants to confront whoever it is. Then, upon just seeing her face he knows. (Elora looks just like her mother, after all.) What follows is a tender meeting between estranged father and daughter, a beautiful two-hander of an episode that brims with complex emotions and careful characterization.
For at first Elora is all business. She makes it clear to this strange man in front of her (who is otherwise sweet if a tad awkward around the daughter he hadn't seen since her first birthday) that she is not looking for a dad—just some data about him. Don't mistake her stalking and her reaching out for any kind of familial reunion. Could Rick just fill out some forms that her college needs?
Except, of course, Rick can't bring himself to just do that. He's eager to connect—no matter how silly his attempts. When he sees Elora basically pour what amounts to a full cup of sugar into her coffee he tells she likely gets that from him. He loves sugar. "Doesn't everyone?" she counters. At every turn, Elora struggles with keeping her cool. She longs for family and for connection but she's not willing to let herself open up to a stranger who may well bruise and leave her alone and adrift again.
And so, first at a diner and then later at his home (where he lives with his three kids; their mom is currently working on herself and her opioid addiction), Elora and Rick find themselves bumbling through conversations about Cookie, Mabel, and bits and pieces of Elora's own history she didn't know. It was Rick, she learns, who named her. (Rick was obsessed with film and especially with Willow. Did she know that director Ron Howard was from Oklahoma?)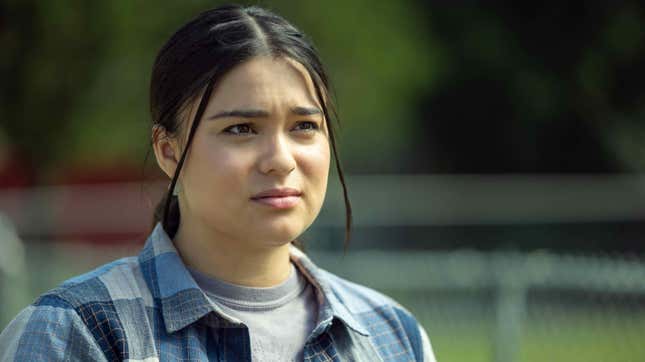 She learns as well that Rick wishes he could've been a better father to her. But that he was much too young and much too reckless back when Cookie had Elora. To hear that and to then learn he now cares for three kids on his own is disorienting, and you can see in Devery Jacobs' performance the way Elora is constantly trying to balance her wish for what she could've had and what her step-siblings now do have. There's ambivalence in her every move. When Rick suggests he join her at home because he has something to give her, she's reticent. She doesn't want to extend this conversation further. (She's gotten the forms filled out, after all.) But her curiosity gets the better of her and in so doing she's rewarded with a loving gift: a photo from her very first birthday, a rarity since she didn't have any photos as a baby at all.
What Rick wants from Elora seems unclear. It's not forgiveness he's after, though he's intent on making it clear he's very happy she finally came to find him. Even if he's unsure what kind of relationship they can have right now—or if she wants one at all. She's not sure either. As much as she first wanted it all to be business, she's drawn in by his demeanor, which is neither pushy nor indifferent. He's genuinely curious about her. So much so that, in talking about his own new family, he invites her to come meet her step-siblings who are about to arrive from school, and later still to join them for pizza night.
As Elora looks around this family that's hers-and-not-really-hers, you can see a yearning that's touching and only a little bit painful. By the time she leaves and one of her newfound stepsisters asks her if she'll come visit again, you get the sense that her noncommittal answer is ambiguous to Elora herself.
Would she want to continue these relationships? Is this what she'd want for herself as she readies to start up a new life in college? Would it be heartwarming or heartbreaking? Jacobs' final moments, as she sits in her car and stares at the photo Rick has given her, are tinged with all of those questions, and it's a testament to Reservation Dogs and Sterlin Harjo's direction of this episode that such ambivalence is presented as the only natural reaction to such a meeting. Elora's someone who's long depended on her own found family for support; it's understandable she'd bristle at the slightest possibility of imagining what it would be to be an even ancillary member of a loving family unit such as Rick's.
It's a beautiful moment and one that, perhaps, perfectly tees us up the show's series finale next week, when our titular protagonists will bid us goodbye after a stellar three season run.
Stray observations
Hawke, as it turns out, is perfect casting. As ever, the celebrated actor brings a blend of rueful melancholy to the part of Rick, a man who knows he could've done better but who isn't tripping over himself to make needless attempts at atonement.
Our Rez Dogs are full of amazing lingo, and "snagging" (i.e. hooking up) is kind of fabulous.
Speaking of fabulous, Elora's college advisor (who keeps a photo of themself alongside a bunch of strippers on their desk and is prone to impromptu singing moments) may well be my favorite bit player this season. "Girl, like your mom's a virgin?" and "You got a daddy, he's on your birth certificate!" both had me outright laughing out loud.
"Like Luke when he went to Dagobah?" made me laugh more than it probably should, but then again, I'm a sucker for Cheese's nerdy inclinations.
I know Reservation Dogs operates in a remarkably optimistic vision of reality (and surreality, at times). But I will still nitpick the whole "oh, my dad has another daughter, and we will all go out to grab some pizza as if that was the most normal thing to hear on a school day ever" thing.
Seems like our Elora (Kawennáhere Devery Jacobs) is rounding out her talents in this season of the show; she didn't just direct the affecting "Wahoo!" a few weeks back, but she gets sole writing credit for "Elora's Dad" (all while nabbing great reviews out of TIFF for Backspot). She's a talent to watch.