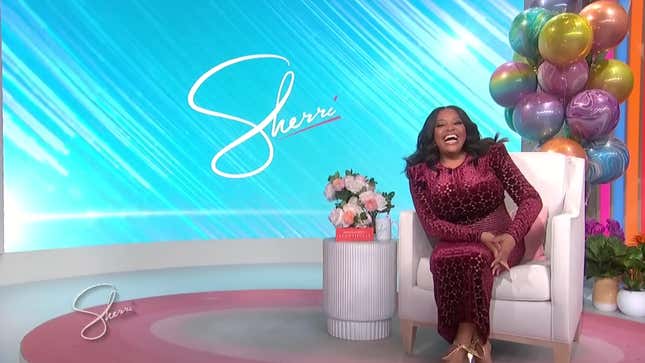 Amid Hollywood's dual writer and actor strikes, returning daytime talk shows have been a contentious issue. After Drew Barrymore received intense backlash for her decision to return without her WGA employees, her show and several others delayed their premieres. Meanwhile, there are several other talk shows that aren't covered under the WGA contract and never employed WGA writers at all, like Live With Kelly And Mark, Tamron Hall, and Sherri Shepherd's eponymous series.

Lizzy Mathis and Jessica Alba on "Honest Renovations," the SAG-AFTRA strike, and first impressions
Given all the drama of the last few weeks, Shepherd acknowledged that there's been "so much confusion about who can work and who can't work" on the second season premiere of Sherri on Monday. After discussing her recent breast reduction, she shared that she had recently picketed in Los Angeles with fellow SAG-AFTRA members Viola Davis and Niecey Nash.
"But here's the thing: talk shows in general fall under a different union contract code, so we are allowed to come back—unless you are a WGA show. Now, The Sherri Shepherd Show is not a WGA show," Shepherd explained. "We have never employed WGA writers. So us coming back to work is not crossing the picket line. And as a comic, my comedic take on the headlines is my voice. I write my jokes. I'm the writer. And I'm not in the WGA. I have the producers, who help me shape my words, which is why we don't have WGA writers over here at Sherri."
She continued, "My heart is breaking for all of the people that cannot work right now, and I hope that our industry can get this strike resolved soon. I stand in solidarity with my union."
SAG-AFTRA members are allowed to continue appearing as guests on shows like Sherri, as long as they are not promoting any previous work covered by SAG-AFTRA. (Season premiere guest Michelle Buteau, for instance, discussed her new stand-up tour and her book Survival Of The Thickest, but not her Netflix show.)
Meanwhile, Shepherd also addressed some of SAG-AFTRA's biggest issues in the strikes, including residuals. "And I'm gonna tell you, residuals help us. Residuals came—when I was going through a time where I didn't work, residuals kept the lights on," Shepherd shared with her audience. "They helped me pay my bills. My residual payments came into play when my son Jeffrey was born at 25 weeks, those residual payments along with insurance helped me. So good residual payments are important to actors."
She added that "one of the big sticking points that we are all marching against is artificial intelligence, which could replace working actors from working. And it could replace writers. And I am here to tell you as an actress, AI, you are not gonna replace all of this ass. You cannot do it. I will not stand for it. AI, you cannot replace this humor, you cannot replace my sass, and AI, you cannot replace these boobs!"