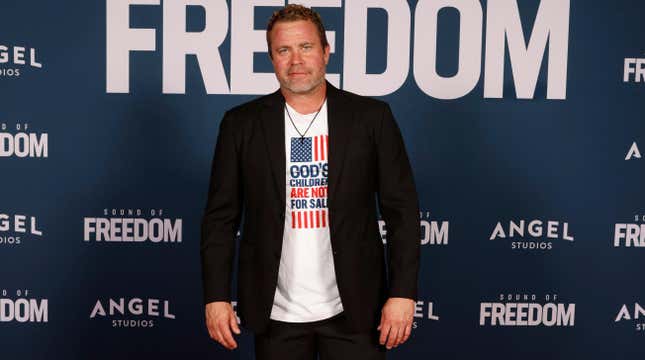 Tim Ballard, the subject of summer's surprise hit Sound Of Freedom, was reportedly accused of sexual misconduct within his anti-sex trafficking organization Operation Underground Railroad. Earlier this year, Vice News reported that Ballard had stepped away from O.U.R. amid an internal investigation, the details of which were not made public at the time. Now, the outlet confirms that seven female employees of O.U.R. have made allegations of misconduct against Ballard.
Dan Cummins plays This Or That with The A.V. Club
Ballard reportedly invited women to pose as his "wife" on overseas rescue missions, and "would then allegedly coerce those women into sharing a bed or showering together, claiming that it was necessary to fool traffickers." He is also alleged to have sent at least one woman an inappropriate photo of himself and asked another "how far she was willing to go" to save child victims of sex trafficking.
According to Vice, the number of women to have experienced sexual misconduct from Ballard is likely higher; the seven women concerned in the investigation are employees only, but multiple volunteers have come forward with similar stories.
Ballard, who is rumored to be launching a senate run, apparently denied any accusations in a speech over the weekend—before Vice's story was published, but ostensibly?after he had been informed of it. "It's not true, nothing you hear is true," he told supporters in Boston (via FOX13). This comes after an anonymous letter about Ballard's alleged misconduct at O.U.R. had been "circulating in the Utah philanthropic community for the past several months" (per Vice). The letter read, in part, "It was ultimately revealed through disturbingly specific and parallel accounts, that Tim has been deceitfully and extensively grooming and manipulating multiple women for the past few years with the ultimate intent of coercing them to participate in sexual acts with him, under the premise of going where it takes and doing 'whatever it takes' to save a child."
In a statement to Vice, O.U.R. confirmed that Ballard had "permanently" separated from the organization in June. "O.U.R. is dedicated to combatting sexual abuse, and does not tolerate sexual harassment or discrimination by anyone in its organization. O.U.R. retained an independent law firm to conduct a comprehensive investigation of all relevant allegations, and O.U.R. continues to assess and improve the governance of the organization and protocols for its operations," the statement read. "To preserve the integrity of its investigation and to protect the privacy of all persons involved, O.U.R. will not make any further public comment at this time. O.U.R. is confident in its future as the leading organization committed to combatting sex trafficking and saving children who have been captured and sold into slavery."