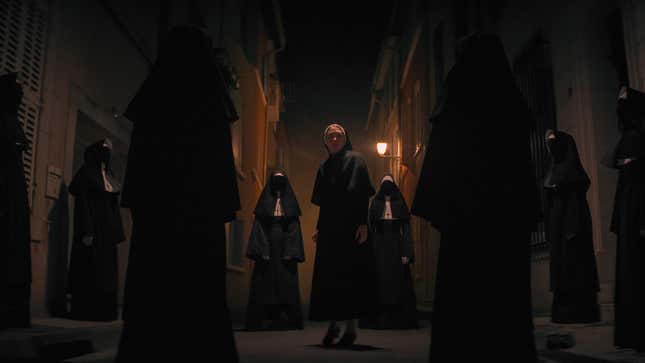 As our beloved Mr. Autumn Man prepares to pull his gray sweater and plaid shirt from his vintage steamer trunk, horror movies and who-dun-its posing as such begin to fill up the box office top 10. The latest entry in the Conjuringiverse, The Nun II, and Kenneth Branagh's new mustache-twirling Poirot adventure, A Haunting In Venice, each brought in roughly $14.5 million this weekend. However, the most current estimates on Box Office Mojo and The Numbers put The Nun II slightly ahead with $14.7 million to Venice's $14.5 million.
Patrick Wilson thought "Watchmen" was cool, so take that
A post-summer slowdown is typical for the box office, especially considering the surprisingly lively past few months. However, some medium-priced movies prove that maybe spending $300 million on a Flash isn't the quickest way to profit. Working off a reported $70 million budget Equalizer 3 pulled in another $7 million this weekend and brought its three-week domestic total to $73 million. Meanwhile, Focus Feature's My Big Fat Greek Wedding 3 added another $4 million to its two-week domestic gross of $18 million. While Barbie closed out the top five and shoveled another $3 million onto its $629 million domestic haul, the Hindi action thriller Jawan made $2.4 million in less than a thousand theaters. Jawan has currently made $12 million domestically.
Led by Barbie and Oppenheimer, summer holdovers, including Blue Beetle, Ninja Turtles, and Gran Turismo: Based On A True Story, litter the top 10. But the "Barbenheimer" double feature remains the biggest box office story of the year. Greta Gerwig's pink phenomenon is now the 11th highest-grossing domestic release, with a worldwide total of $1.4 billion, making it the highest-grossing movie based on a toy and the highest-grossing comedy ever. Adding to this summer's theme of proving conventional box office wisdom of the last decade wrong, Christopher Nolan's three-hour movie about science conversations brought its worldwide total to $912 million. Oppenheimer is now the highest-grossing biopic in history and will likely cross the billion-dollar mark in the next few weeks.
Here's the top 10 (per Box Office Mojo):
The Nun II
A Haunting In Venice
The Equalizer 3
My Big Fat Greek Wedding 3
Barbie
Jawan
Blue Beetle
Gran Turismo: Based On A True Story
Oppenheimer
Teenage Mutant Ninja Turtles: Mutant Mayhem