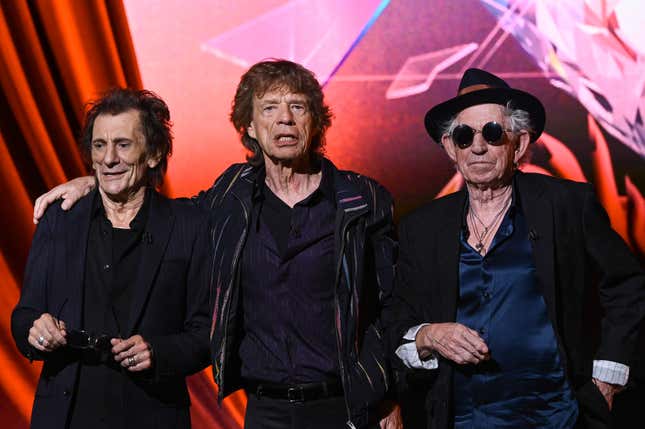 The good news for Rolling Stones fans is these guys are never going to stop touring so long as they remain capable of taking the stage. That's how we get Mick Jagger, 80, Keith Richards, 79, and Ronnie Wood, 76, embarking on "Stones Tour '24 Hackney Diamonds," a 16-date North American tour to promote their new album of the same name. Announced on Tuesday, the endeavor begins in April 2024 in Houston, Texas, and ends in California in July.

Mick Jagger says The Rolling Stones could give $500 million to charity
Hackney Diamonds was the group's first original album since 2005, featuring collaborations with Paul McCartney, Stevie Wonder, Elton John and Lady Gaga. Gaga helped kick off the album cycle at an intimate album release concert in New York, where they performed the new song "Sweet Sounds Of Heaven." The lead single, "Angry," earned the Stones a Grammy nomination for Best Rock Song.
The Rolling Stones were last in North America on the 2021 "No Filter" tour, shortly after the death of drummer Charlie Watts. "Stones Tour '24 Hackney Diamonds" is sponsored—no joke—by AARP, per Variety. Tickets go on sale December 1. You can check out the full list of tour dates below.
Stones Tour '24 Hackney Diamonds
Sunday, April 28, 2024: NRG Stadium, Houston, TX
Thursday, May 2, 2024: Jazz Fest, New Orleans, LA
Tuesday, May 7, 2024: State Farm Stadium, Glendale, AZ
Saturday, May 11, 2024: Allegiant Stadium, Las Vegas, NV
Wednesday, May 15, 2024: Lumen Field, Seattle, WA
Thursday, May 23, 2024: MetLife Stadium, East Rutherford, NJ
Thursday, May 30, 2024: Gillette Stadium, Foxboro, MA
Monday, June 3, 2024: Camping World Stadium, Orlando, FL
Friday, June 7, 2024: Mercedes-Benz Stadium, Atlanta, GA
Tuesday, June 11, 2024: Lincoln Financial Field, Philadelphia, PA
Saturday, June 15, 2024: Cleveland Browns Stadium, Cleveland, OH
Thursday, June 20, 2024: Empower Field at Mile High, Denver, CO
Thursday, June 27, 2024: Soldier Field, Chicago, IL
Friday, July 5, 2024: BC Place, Vancouver, BC
Wednesday, July 10, 2024: SoFi Stadium, Los Angeles, CA
Wednesday, July 17, 2024: Levi's Stadium, Santa Clara, CA