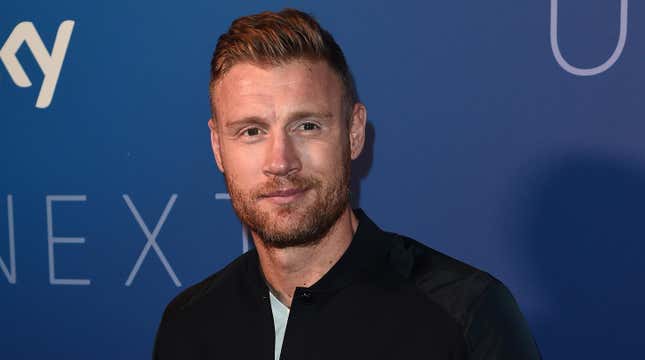 Top Gear, the BBC's beloved automotive show, has been put on an indefinite hiatus following the on-set injury of host Freddie Flintoff. Flintoff was hospitalized after a crash at the Top Gear test track at Dunsfold Park Aerodrome in Surrey in December 2022. Per Variety, Flintoff was involved in two other crashes after he joined the series as a host in 2019; previous host Richard Hammond was also involved in a near-fatal crash resulting in "significant brain injury" in 2006, according to The Guardian. The decision on Tuesday to pause the show comes after a 46-year broadcast run.
Joel Kinnaman on "Silent Night," working with Nicolas Cage, and more
"Given the exceptional circumstances, the BBC has decided to rest the U.K. show for the foreseeable future," the statement reads (via Variety). "The BBC remains committed to Freddie, Chris and Paddy who have been at the heart of the show's renaissance since 2019, and we're excited about new projects being developed with each of them. We will have more to say in the near future on this. We know resting the show will be disappointing news for fans, but it is the right thing to do. All other Top Gear activity remains unaffected by this hiatus including international formats, digital, magazines and licensing."
The decision to halt the series was made after a BBC health and safety investigation, the results of which the broadcaster has reportedly decided not to publish. Another separate health and safety report revealed "important learnings" about how the show is produced, per The Hollywood Reporter.
According to The Guardian, Flintoff is still recovering from what his legal team describes as "life-altering" injuries, for which the BBC reached a financial settlement of around $11 million. In March, the company released a statement (via Variety) saying it would not be moving forward with series 34 of Top Gear, adding, "BBC Studios has concluded its investigation into the accident at the Top Gear test track in Surrey last December, which regrettably injured presenter Freddie Flintoff. We have sincerely apologized to Freddie and will continue to support him with his recovery."
Top Gear is available to stream now on Amazon Prime Video.