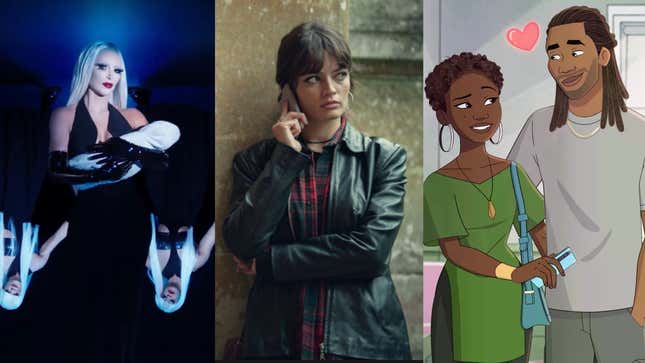 Welcome to What'蝉 On, our weekly picks of must-watch shows. Here'蝉 what you need to watch from Sunday, September 17 to Thursday, September 21. All times are Eastern. [Note: The weekend edition of What'蝉 On drops on Fridays.]

Late-night hosts welcome back their writers—and their jokes
---
The biggies
American Horror Story (FX, Wednesday, 10 p.m.)
Ryan Murphy'蝉 American Horror Story, a show that kept filming during the ongoing WGA strike (a.k.a. scabbing), kicks off its 12th season on FX. This iteration of the anthology, dubbed Delicate, features the return of AHS staples like Emma Roberts, Billie Lourd, Leslie Grossman, and Denis O'Hare. It also stars franchise newcomers Kim Kardashian, Matt Czuchry, Cara Delevingne, and Michaela Jaé Rodriguez.
---
Sex Education (Netflix, Thursday, 3:01 a.m.)
Netflix'蝉 smart, risqué British coming-of-age series Sex Education wraps up with its fourth season. Laurie Nunn'蝉 dramedy will go down as one of the streaming platform'蝉 most invigorating originals—and it gets bonus points for giving Gillian Anderson such a memorable role as Dr. Jean Milburn. The show follows Moordale High students as they navigate personal issues related to sexual intimacy. In its final run, Otis (Asa Butterfield), Eric (Ncuti Gatwa), and most of their friends adjust to a new school, while Maeve (Emma Mackey) begins college in America. Look out for The A.V. Club'蝉 review on Thursday.
---
Young Love (Max, Thursday, 3:01 a.m.)
Matthew A. Cherry expands the world of his 2019 Oscar-winning short Hair Love with the new Max animated series Young Love, which fleshes out the film'蝉 central family: Stephen and Angela, their daughter Zuri, and (of course) their pet cat Rocky. In the show, the characters juggle social issues and multi-generational dynamics while striving to make a better life for themselves. Check out The A.V. Club'蝉 review on Tuesday.?
---
Hidden gems
Psycho: The Lost Tapes Of Ed Gein (MGM+, Sunday, 10 p.m.)
True-crime docuseries Psycho: The Lost Tapes Of Ed Gein is an unfiltered look into the infamous grave robber and serial killer. Directed by James Buddy Day, the three-episode series includes never-before-heard recordings of Gein discussing his crimes and explores the Mad Butcher'蝉 upbringing as well as his twisted relationship with his mother.
---
Neighbours (Freevee, Monday, 2:01 a.m.)
The popular Australian TV show Neighbors, which launched the careers of Margot Robbie, Guy Pearce, and Russell Crowe, returns in a new form on Prime Video'蝉 Freevee. The soapy drama centers on the lives of the residents of a fictional suburban street, and its cast includes Pearce, Mischa Barton, Shiv Palekar, Anne Fletcher, Annie Jone, and Sara West.
---
The Super Models (Apple TV+, Wednesday, 12:01 a.m.)
The four-part docuseries The Super Models puts a spotlight on the careers of Naomi Campbell, Cindy Crawford, Linda Evangelista, and Christy Turlington. The show goes beyond the catwalk to look at how they got their starts, how they came to dominate the modeling world, and how they tried to shift the power dynamics of a complex industry.
---
More good stuff
The Gold (Paramount+, Sunday, 3:01 a.m.)
British series The Gold?dramatizes the notorious 1983 Brink'蝉-Mat robbery, in which six masked men stole $26 million worth of gold bullion, and details the long investigation that followed. The series stars Hugh Bonneville, Dominic Cooper, Jack Lowden, and Charlotte Spencer. Here'蝉 a bit from The A.V. Club'蝉 review:
?The Gold crams in subplots and introduce new faces without proper context as it goes on, probably to look more stylized than it is. Watching it would feel like mental gymnastics if the cast wasn't holding on for dear life.

---
Mrs. Sidhu Investigates (Acorn TV, Monday, 3:01 a.m.)
If you're looking to add to your Acorn TV watchlist beyond these 10 gems, the British-American streamer is releasing a new drama, Mrs. Sidhu Investigates. Meera Syal stars as the titular South Asian caterer/amateur sleuth who teams up with the stern DCI Burton (Craig Parkinson) to become a formidable crime-solving duo.
---
Can't miss recaps
Winning Time: The Rise Of The Lakers Dynasty?(HBO, Sunday, 9 p.m., season two finale)
Only Murders In The Building?(Hulu, Tuesday, 12:01 a.m.)
The Morning Show (Apple TV+, Wednesday, 12:01 a.m.)
Reservation Dogs?(FX on Hulu, Wednesday, 12:01 a.m.)
Star Wars: Ahsoka?(Disney+, Wednesday, 3:01 a.m.)
---
Arriving now
The D'Amelio Show (Hulu, Wednesday, 12:01 a.m., season three premiere)
Murdaugh Murders: A Southern Scandal (Netflix, Wednesday, 3:01 a.m., season two) ?