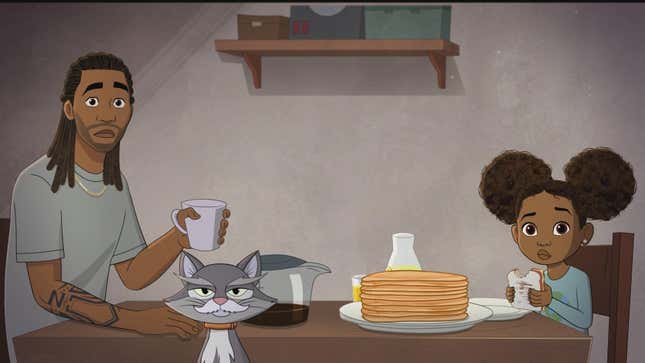 In 2019, Matthew A. Cherry, a former NFL player who made a name for himself as a rising director, debuted Hair Love, a charming six-minute animated short about an African American millennial father attempting to style his self-possessed young daughter's natural hair for the first time before they visit her mother, who recently underwent her latest round of chemotherapy. The film, lauded for its depiction of a young Black family and for pushing back on stereotypes about the presence of Black fathers in their children's lives, was an instant hit, further proving that culturally specific stories can feel universal when they're told with emotional honesty.
Gold Standard: Oscars edition - Best Picture
Four years (and one Academy Award) later, Cherry has returned—at least in the animated space—to his hometown of Chicago in a new Max sequel series called Young Love, which skillfully expands the world that he had established in the short film and accompanying children's book, with an all-star voice cast of predominantly Black actors. The 12-episode first season, which debuts with four episodes on September 21, picks up two months after the last chapter, which ended with the mother returning home with her partner and daughter, and finds the adults all dealing with their own personal issues.
Having recently entered remission, Angela Young (Issa Rae, excellent), an ambitious if not opportunistic hair vlogger who works full-time at a local salon, struggles to find her footing in the workplace after taking time off during her illness. Her longtime partner, Stephen Love (a charismatic Scott Mescudi, a.k.a. Kid Cudi), an aspiring music producer who feels out of touch with the rap game, struggles to balance the artistic and time-consuming demands of his work with his desire to become even more involved in his daughter Zuri's (Brooke Monroe Conaway) life. (Zuri's surname is Young-Love.) The tight-knit family of three—and their cranky grey cat—live in an apartment building owned by Angela's parents, Gigi (Loretta Devine) and Russell (Harry Lennix) who, like most grandparents, offer some much-needed tough love on the adults while being protective of their granddaughter. (A running gag in the show is Russell trying to get Stephen to "get a real job" and pay him rent for living in his building.)
Part of the appeal of Hair Love lies in its ability to connect with different generations; parents on social media have regularly shared their experiences of reading the picture book with their children, and Black fathers, in particular, have felt seen and represented in a way that they never could have imagined. But therein lay one of the challenges of developing Young Love: How do you go about creating an animated show that appeals as much to children as their parents and grandparents? And how do you make a show that remains accessible to wider audiences when the short it was inspired by was largely silent?
Cherry and his creative team seem to have cracked the code. By expanding the scope of the show beyond just hair, they have essentially created a traditional family sitcom—one of the most accessible and universal genres of television—but set in the world of animation. Within this genre, the writers have found a way to create contrasting—and, more often than not, conflicting—personalities within the Young-Love clan that not only feel fresh but also offer differing perspectives on heftier social issues that directly affect the Black community. In a world where there is so much emphasis on racial diversity (and rightfully so), it's almost a relief to also have a diversity of opinion within the Young-Love family itself because each character will present a different way of tackling the same issue in a household.
The episodes may only be a little more than 20 minutes each, but in one season, Young Love manages to tackle a laundry list of themes. Some have been well-worn (gender roles, masculinity, religion, bullying), while others feel more timely and/or specific to this particular family (multi-level marketing, gentrification, racial justice and oppression, appropriation and exploitation of Black culture). Zuri, as a young girl with a vivid imagination, finds creative ways to deal with the issues that she is confronted with. For example, she draws inspiration from an Angela Davis documentary to collect enough signatures from students to bring back her class' beloved coffee cakes at school. At one point, she imagines facing off against a bully in a Wild West movie to figure out how she will fight back at school. Conaway brings a playfulness to the role that is particularly evident when Zuri goes off the rails, but she is also able to effectively convey the growing pains that many young children feel when they realize so much of the world is out of their control.
The show deftly introduces these more adult issues in an even-handed, more age-appropriate manner, but that being said, they are not necessarily given the same amount of emotional weight, which makes certain topics stand out more than others. Similarly, while the show may center the experiences of Zuri and her parents, the storylines involving secondary characters are not treated equally. For instance, Young Love could have placed a greater emphasis on Angela and her wealthy new client, who is introduced in episode five—one of the most intriguing characters and dynamics outside of the family—rather than having Stephen trying to run circles around Lil Ankh, a head-in-the-clouds rapper whose schtick grows old and cumbersome within the first few installments.
The writers even lose some of the focus on the grandparents as the season progresses; while early episodes force Gigi and Russell to reexamine their beliefs about gender roles and show the old married couple attempting to rekindle the spark in their relationship, the later episodes have them placed more in the periphery unless there is a teachable moment for Angela, Zuri, or Stephen. Devine and Lennix both have such distinctive voices—and, judging by their dialogue, seem to relish working in animation—that this show would only benefit from a deeper exploration of the origins of this particular family unit and where Angela's sense of family comes from.
Young Love, nevertheless, is the latest example of the multigenerational appeal of high-quality animation. By combining the elements of a family sitcom with the accessibility of animation, the show is able to tap into a particular universal truth: that we are all trying to strive for a better life for ourselves and our loved ones.
Young Love premieres September 21 on Max